Search among all miso soups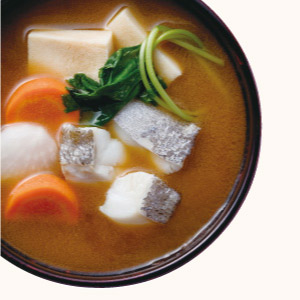 Jappa-jiru-style Cod Miso Soup
Jappa-jiru is a local soup of Aomori Prefecture. This miso soup with plenty of ingredients is a different version of jappa-jiru.
Ingredients (4 servings)
| | |
| --- | --- |
| Cod | 120 g |
| Koya-dofu (Freeze-dried tofu) | 2 cakes |
| Daikon radish | 4 cm |
| Carrot | 1/5 |
| Mitsuba (Japanese honeywort) | 4 stalks |
| Dashi stock | 800 cc |
| Miso | 3-1/2 tablespoons |
Type of Miso
Mugi (Barley) miso
Our product used in this recipe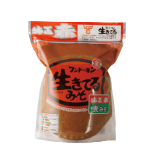 Ikiteru Junsei Aka
(Living Pure Red Miso)
Directions
Cut the cod into proper sizes. Rehydrate the koya-dofu in water and cut into proper sizes. Cut the daikon radish into slightly thick quarter slices and the carrot into 1-cm round slices. Dip the mitsuba in boiling water and tie each stalk loosely.

Boil the cod, daikon, carrot and koya-dofu in the dashi stock.

After the ingredients are cooked, lower the heat and dissolve the miso. Serve the miso soup in bowls with the tied mitsuba on top.
★ A Note
To remove the smell of cod, sprinkle salt lightly over it and leave it in a colander for about 15 minutes. Wipe off the seep on it and cook.