Search among all miso soups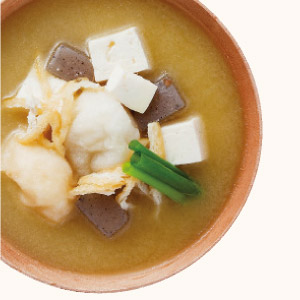 Wheat Gluten Cake and Konjac Miso Soup
Enjoy the chewy textures of ingredients in this miso soup.
Ingredients (4 servings)
Tofu
1/3 cake
Konjac
(Devil's tongue)
100 g
Mochi-fu
(Dried steamed wheat gluten cake)
8 pieces
Sushiage
(Deep-fried tofu for sushi)
1 piece
Banno-negi
(Thin green onion)
4 stalks
Dashi stock
800 cc
Miso
3-1/2 tablespoons
Type of Miso
Kome (Rice) miso
Directions
Cut the tofu into 1-cm cubes. Remove harshness from the konjac by boiling in salt water for a few minutes and cut into 1-cm cubes. Rehydrate the mochi-fu in water and drain. Cut the sushiage to 1-cm width and the banno-negi to 2-cm length.

Bring the dashi stock to a boil, add the tofu, konjac and sushiage and boil for a moment. Lower the heat and dissolve the miso. Add the mochi-fu.

Serve the miso soup in bowls with the banno-negi sprinkled.
★ A Note
If you cannot obtain mochi-fu, you can use ordinary fu (wheat gluten cake).