Search among all miso soups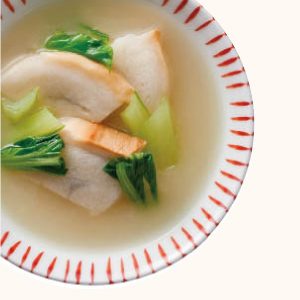 Mibuna and Baked Wheat Gluten Cake Miso Soup
Enjoy the crispy texture of mibuna (a variety of wild mustard) and the spongy texture of ring-shaped baked wheat gluten cake (kuruma-fu) in this miso soup.
Ingredients (4 servings)
| | |
| --- | --- |
| Kuruma-fu | 4 pieces |
| Mibuna | 1/4 package (50 g) |
| Dashi stock | 800 cc |
| Miso | 3-1/2 tablespoons |
Type of Miso
Mugi (Barley) miso
Our product used in this recipe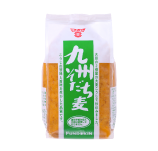 Kyushu-sodachi Mugi
(Kyushu-grown Barley Miso)
Directions
Rehydrate the kuruma-fu in water. Cut the mibuna to 2-cm length.

Bring the dashi stock to a boil. Add the mibuna and boil for a moment.

Lower the heat and dissolve the miso. Add the kuruma-fu and serve the miso soup in bowls.
★ A Note
Mibuna is a traditional vegetable in Kyoto. Its distinctive flavor makes this miso soup special.