Search among all miso soups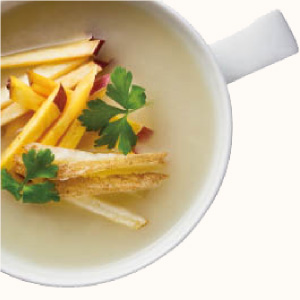 Miso Soup of Various French Fries
The combination of various types of French fries makes this miso soup savorier.
Ingredients (4 servings)
Potato
1
Nautokintoki
(Narutokintoki sweet potato)
1/3
Anno-imo (Anno sweet potato)
1/3
Mitsuba (Japanese honeywort)
A few pieces
Dashi stock
800 cc
Miso
3-1/2 tablespoons
Type of Miso
Awase (Mixed) miso
Our product used in this recipe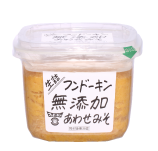 Nama-zume Mutenka Awase
(Fresh-packed, Additive-free Mixed Miso)
Directions
Cut the potato, narutokintoki and anno-imo into sticks of about 7-mm in width and remove harshness by soaking them in water. Drain them well and deep-fry in vegetable oil.

Bring the dashi stock to a boil and dissolve the miso.

Place the French fries in bowls and pour the miso soup of 2 over them. Serve the miso soup with the mitsuba on top.
★ A Note
Various potatoes and sweet potatoes are on the market in this season. Enjoy them in this miso soup.