Search among all miso soups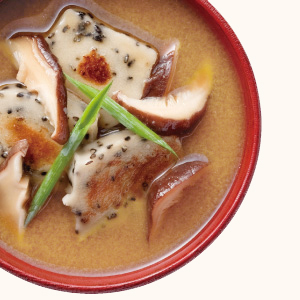 Grilled Wheat Gluten Cake and Dried Shiitake Mushroom Miso Soup
This miso soup brings out the good taste of steamed wheat cake (nama-fu).
Ingredients (4 servings)
| | |
| --- | --- |
| Nama-fu | 120 g |
| Dried shiitake mushrooms | 4 |
| Banno-negi (Thin green onion) | 1 stalk |
| Dashi stock | 800 cc |
| Miso | 3-1/2 tablespoons |
Type of Miso
Awase (Mixed) miso
Our product used in this recipe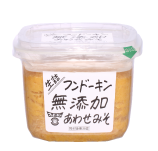 Nama-zume Mutenka Awase
(Fresh-packed, Additive-free Mixed Miso)
Directions
Cut the nama-fu to 1-cm width and grill until its color becomes brown. Rehydrate the dried shiitake mushrooms in water and cut into proper sizes. Cut the banno-negi to 3-cm length.

Bring the dashi stock to a boil, add the grilled nama-fu and shiitake mushrooms and boil for a short time. Lower the heat and dissolve the miso.

Serve the miso soup in bowls with the banno-negi sprinkled.
★ A Note
Grilled nama-fu has a better flavor than nama-fu used in miso soup without grilling.