Search among all miso soups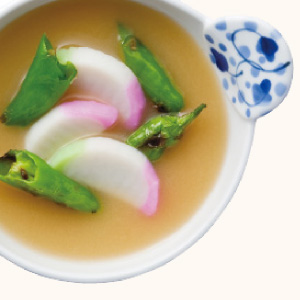 Sweet Green Pepper and Fish Cake Miso Soup
Since boiled fish cake (kamaboko) has umami (good taste), you can easily prepare a tasty miso soup with it.
Ingredients (4 servings)
Shishito
(Sweet green pepper)
8 pods
Kamaboko
(on a wooden plate)
1/4
Dashi stock
800 cc
Miso
3-1/2 tablespoons
Type of Miso
Mugi (Barley) miso
Our product used in this recipe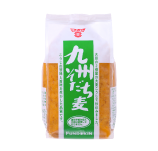 Kyushu-sodachi Mugi
(Kyushu-grown Barley Miso)
Directions
Sear the shishito lightly and cut the kamaboko into 7-mm slices.

Bring the dashi stock to a boil, add the shitshito and kamaboko and boil for a short time.

Lower the heat and dissolve the miso. Serve the miso soup in bowls.
★ A Note
The flavor of seared shishito is very appetizing. Shishito is sometimes spicy, yet it is enjoyable.