Search among all miso soups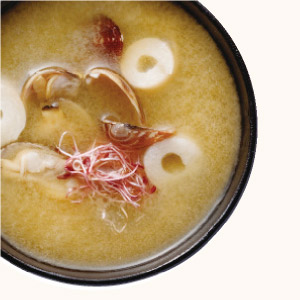 Littleneck Clam and Wheat Gluten Cake Miso Soup
The umami (good taste) of Japanese littleneck clams (asari) seeps into spiral wheat gluten cakes (uzumaki-fu) in this miso soup.
Ingredients (4 servings)
| | |
| --- | --- |
| Asari | 120 g |
| Uzumaki-fu | 20 pieces |
| Magic Red or Benitade (Water pepper) | 2 tablespoons |
| Dashi stock | 800 cc |
| Miso | 3-1/2 tablespoons |
Type of Miso
Kome (Rice) miso
Directions
Soak the asari in salt water to remove the sand and then scrub well with fresh water.

Bring the dashi stock to a boil and add the asari. After the shells open, lower the heat, dissolve the miso and add the uzumaki-fu.

Serve the miso soup in bowls with the Magic Red on top.
★ A Note
If you have a large amount of asari, save the extra portion in a freezer. It increases the umami (good taste) ingredient in asari. You can then make this miso soup tastier.