Search among all miso soups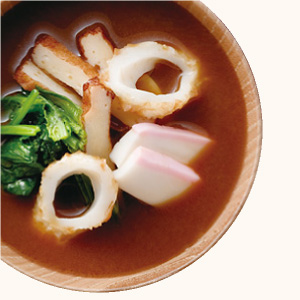 Spinach and 3 Kinds of Paste Products Miso Soup
Three kinds of paste products are put together, making this miso soup luxurious.
Ingredients (4 servings)
Spinach
1/2 bunch
Kamaboko
(Boiled fish cake)
4 cm
Chikuwa
(Tubular fish cake)
1
Satsuma-age
(Deep-fried fish cake)
2 pieces
Dashi stock
800 cc
Miso
3-1/2 tablespoons
Type of Miso
Awase (Mixed) miso
Our product used in this recipe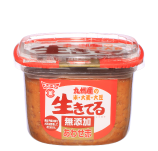 Ikiteru Kyushu-san Mutenka Awase Aka
(Living, Kyushu-grown, Additive-free Red Mixed Miso)
Directions
Boil the spinach and cut to 3 ~ 4-cm length. Slice the kamaboko and chikuwa and cut the satsuma-age into proper sizes.

Bring the dashi stock to a boil, add the spinach, kamaboko, chikuwa and satsuma-age and cook.

Lower the heat and dissolve the miso. Serve the miso soup in bowls.
★ A Note
Different kinds of umami (good taste) seep out of kamaboko, chikuwa and satasuma-age and make this miso soup savory.