Search among all miso soups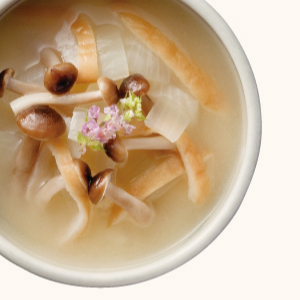 Baked Flat Wheat Gluten Cake and Shimeji Mushroom Miso Soup
Cute and fragrant hanaho-jiso (spikes of shiso, or beefsteak plant) makes this miso soup fancy.
Ingredients (4 servings)
| | |
| --- | --- |
| Ita-fu (Baked flat wheat gluten cake) | 1/2 piece |
| Shimeji mushrooms | 1/2 pack |
| Onion | 1/2 |
| Hanaho-jiso | Several spikes |
| Dashi stock | 800 cc |
| Miso | 3-1/2 tablespoons |
Type of Miso
Awase (Mixed) miso
Our product used in this recipe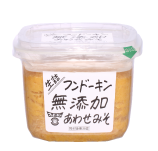 Nama-zume Mutenka Awase
(Fresh-packed, Additive-free Mixed Miso)
Directions
Rehydrate the ita-fu in water. Cut the base off the shimeji mushrooms and separate into small bunches. Slice the onion a little thickly.

Boil the onion in the dashi stock. After the onion becomes tender, add the shimeji and ita-fu and boil for a moment.

Lower the heat and dissolve the miso. Serve the miso soup in bowls with the hanaho-jiso on top.
★ A Note
Enjoy the different textures of ita-fu, shimeji and onion in this miso soup.