Search among all miso soups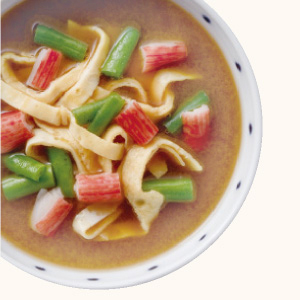 Imitation Crab Meat and Egg Crepe Strip Miso Soup
Children love both imitation crab meat (kanikama) and egg crepe strips (kinshi-tamago). Enjoy them in this miso soup.
Ingredients (4 servings)
| | |
| --- | --- |
| Kanikama | 2 sticks |
| Eggs | 2 |
| Green beans | 4 pods |
| Dashi stock | 800 cc |
| Miso | 3-1/2 tablespoons |
Type of Miso
Awase (Mixed) miso
Our product used in this recipe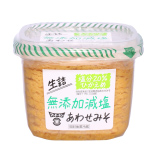 Nama-zume Mutenka Gen-en Awase
(Fresh-packed, Additive-free, Low-salt Mixed Miso)
Directions
Make the eggs into a crepe. Cut it to about 8-cm width and shred thinly into kinshi-tamago. Cut the kanikama and green beans to about 2-cm length.

Bring the dashi stock to a boil, add the kanikama, green beans and kinshi-tamago and cook.

Lower the heat and dissolve the miso. Serve the miso soup in bowls.
★ A Note
Some recent kanikama products have textures as real as real crab meat.