Search among all miso soups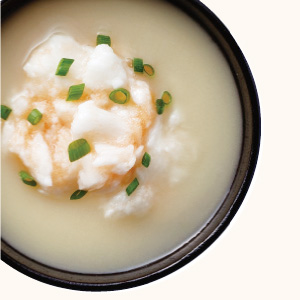 Crushed Yam and Seasoned Cod Roe Miso Soup
Enjoy both crispy and gooey textures of coarsely crushed yam in this miso soup.
Ingredients (4 servings)
| | |
| --- | --- |
| Yam | 10 cm |
| Mentaiko (Seasoned cod roe) | 1 strip |
| Konegi (Thin green onion) | 2 stalks |
| Dashi stock | 800 cc |
| Miso | 3-1/2 tablespoons |
Type of Miso
Shiro (White) miso
Our product used in this recipe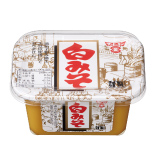 Shiro Miso
(White Miso)
Directions
Put the yam and mentaiko in a plastic bag and crush them by beating with a wooden rod. Chop the konegi finely.

Bring the dashi stock to a boil. Add the crushed yam and mentaiko and boil for a moment.

Lower the heat and dissolve the miso. Serve the miso soup in bowls with the konegi sprinkled.
★ A Note
Crush the yam, leaving chunks. The popping texture of mentaiko is also enjoyable.