Search among all miso soups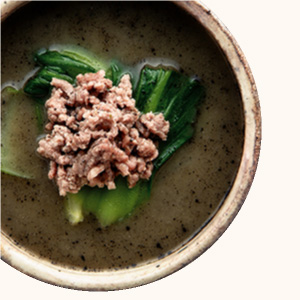 Grilled Japanese Leek, Daikon Radish and Baked Wheat Gluten Cake Miso Soup
Grilled Japanese leek (naganegi) adds a savory sweet taste to the miso soup.
Ingredients (4 servings)
Naganegi
2 stalks
Daikon radish
1/4
Kurumafu
(Ring-shaped baked wheat
gluten cake)
8
Dashi stock
800 cc
Miso
3-1/2 tablespoons
Type of Miso
Awase (Mixed) miso
Our product used in this recipe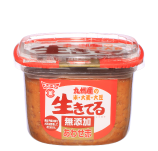 Ikiteru Kyushu-san Mutenka Awase Aka
(Living, Kyushu-grown, Additive-free Red Mixed Miso)
Directions
Cut the naganegi to 4 ~ 5-cm length and grill them until partially burnt. Cut the daikon radish into proper sizes and rehydrate the kurumafu in water.

Bring the dashi stock to a boil and add the daikon radish. After the daikon is cooked, dissolve the miso and add the naganegi and kurumafu.

Serve the miso soup in bowls.
★ A Note
With daikon radish and naganegi, this miso soup is good for you when you are getting a cold.