Search among all miso soups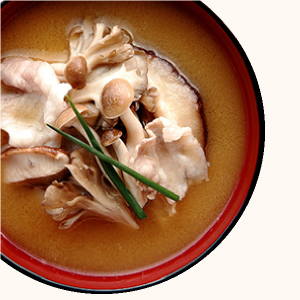 Pork Belly and Mushroom Miso Soup
Use your favorite mushrooms and enjoy the savor of the season.
Ingredients (4 servings)
| | |
| --- | --- |
| Butabara (Sliced pork belly) | 2 slices |
| Mushrooms (to your taste) | 50 g |
| Banno-negi (Thin green onion) | 1 stalk |
| Dashi stock | 800 cc |
| Miso | 3-1/2 tablespoons |
Type of Miso
Awase (Mixed) miso
Our product used in this recipe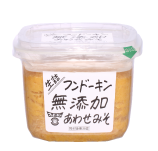 Nama-zume Mutenka Awase
(Fresh-packed, Additive-free Mixed Miso)
Directions
Cut the pork belly and mushrooms into proper sizes and the banno-negi to 2 ~ 3-cm length.

Bring the dashi stock to a boil and add the pork belly and mushrooms. After the ingredients are cooked, dissolve the miso and boil for a moment.

Serve the miso soup in bowls with the banno-negi on top.
★ A Note
This miso soup gives you a fantastic combination of the umami (good taste) of pork belly and that of mushrooms, such as maitake and shiitake mushrooms.