Search among all miso soups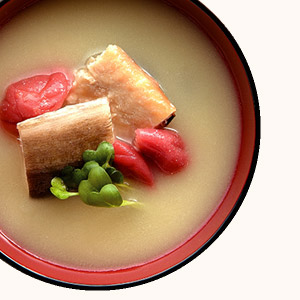 Grilled Conger and Pickled Japanese Apricot Miso Soup
Salty pickled Japanese apricots (umeboshi) are refreshing in summer.
Ingredients (4 servings)
Anago (Conger)
1/2
Umeboshi
2
Kaiwaredaikon
(White radish sprouts)
Several sprouts
Dashi stock
800 cc
Miso
3-1/2 tablespoons
Type of Miso
Awase (Mixed) miso
Our product used in this recipe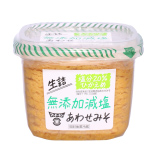 Nama-zume Mutenka Gen-en Awase
(Fresh-packed, Additive-free, Low-salt Mixed Miso)
Directions
Grill the anago and cut into proper sizes. Remove the pits from the umeboshi and mince the drupe with a knife.

Bring the dashi stock to a boil and add the anago. Lower the heat, dissolve the miso and boil for a moment.

Serve the miso soup in bowls with the minced umeboshi and kaiwaredaikon on top.
★ A Note
Anago has many fine bones. Children and elderlies should be careful in eating it, or remove fine bones for them.