Search among all miso soups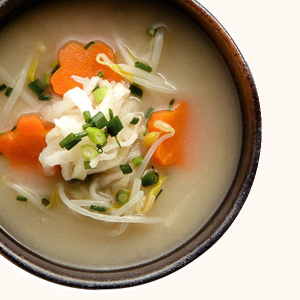 Dried Daikon Strip and Bean Sprout Miso Soup
The combination of crispy and crunchy textures gives this miso soup a rustic taste. Carrot slices in the cherry-blossom shape add an atmosphere of spring.
Ingredients (4 servings)
Kiriboshi-daikon
(Dried daikon strips)
20 g
Carrot
1/4
Bean sprouts
1/2 package
Banno-negi
(Thin green onion)
1 stalk
Dashi stock
800 cc
Miso
3-1/2 tablespoons
Type of Miso
Awase (Mixed) miso
Our product used in this recipe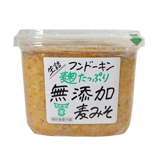 Nama-zume Mutenka Awase
(Fresh-packed, Additive-free Mixed Miso)
Directions
Rehydrate the kiriboshi-daikon in water, drain and chop coarsely into pieces. Slice the carrot and cut into cherry blossoms. Remove the root hairs from the bean sprouts and chop the banno-negi finely.

Boil the kiriboshi-daikon in the dashi stock. When the soup boils, add the carrot and bean sprouts.

After the ingredients are cooked, dissolve the miso and boil for a moment.

Serve the miso soup in bowls with the banno-negi sprinkled.
★ A Note
With kiriboshi-daikon, carrot and bean sprouts, this miso soup is full of dietary fiver.