Search among all miso soups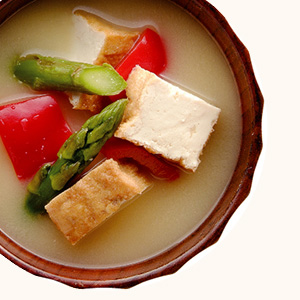 Bamboo Shoot and Brown Seaweed Miso Soup
This miso soup uses blessings of the sea and the mountain abundantly.
Ingredients (4 servings)
Bamboo shoot
1/2
Dried wakame
(brown seaweed)
5 g
Green onion
12 cm
Dashi stock
800 cc
Miso
4 tablespoons
Type of Miso
Awase (Mixed) miso
Our product used in this recipe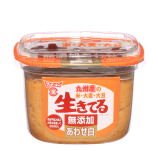 Ikiteru Kyushu-san Mutenka Awase Shiro
(Living, Kyushu-grown, Additive-free White Mixed Miso)
Directions
Cut the bamboo shoot into proper sizes and rehydrate the dried wakame. Chop the green onion.

Bring the dashi stock to a boil and add the bamboo shoot. After the bamboo shoot is cooked, dissolve the miso and boil for a moment.

Place the wakame in bowls and pour the miso soup of 2 over it. Serve the miso soup in bowls with the green onion sprinkled.
★ A Note
Boil the bamboo shoot with rice bran to remove harshness thoroughly.