Search among all miso soups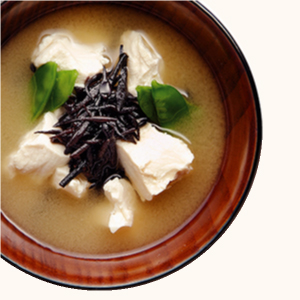 Hijiki and Tofu Chunk Miso Soup
Hijiki seaweed is chewy and tastes good in miso soup.
Ingredients (4 servings)
| | |
| --- | --- |
| Dried hijiki | 20 g |
| Tofu | 1/2 cake |
| Kinusaya (Green snow peas) | 2 pods |
| Dashi stock | 800 cc |
| Miso | 3-1/2 tablespoons |
Type of Miso
Awase (Mixed) miso
Our product used in this recipe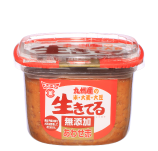 Ikiteru Kyushu-san Mutenka Awase Aka
(Living, Kyushu-grown, Additive-free Red Mixed Miso)
Directions
Rehydrate the hijiki in water, drain and cut into proper sizes. String the kinusaya and cut diagonally into pieces.

Bring the dashi stock to a boil and add the hijiki. After the hijiki is cooked, tear the tofu with hands into the soup together with the kinusaya.

Dissolve the miso and boil for a moment.

Serve the miso soup in bowls.
★ A Note
Tearing tofu into pieces allow them to be covered well with miso soup.