Search among all miso soups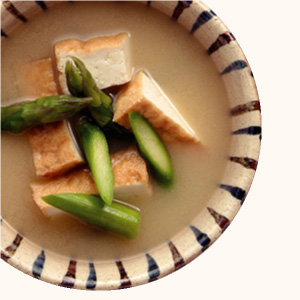 Japanese Butterbur Sprout and Brown Seaweed Miso Soup
This miso soup is full of spring flavors.
Ingredients (4 servings)
Fukinoto
(Japanese butterbur sprouts)
8
Dried wakame
(brown seaweed)
5 g
Kinome
(Young leaves of sansho, or Japanese pepper)
A few
Dashi stock
800 cc
Miso
3-1/2 tablespoons
Type of Miso
Awase (Mixed) miso
Our product used in this recipe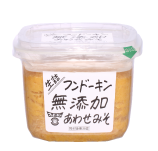 Nama-zume Mutenka Awase
(Fresh-packed, Additive-free Mixed Miso)
Directions
Slice the fukinoto and rehydrate the wakame.

Bring the dashi stock to a boil and add the fukinoto and wakame. After the ingredients are cooked, dissolve the miso and boil for a moment.

Serve the miso soup in bowls with kinome on top.
★ A Note
Although fukinoto becomes blackish when heated, its taste is unchanged.